I was born and raised in a family that was very spiritual and blessed with innate knowledge of ancient Indian Astrology. Even as a child I could sense a person's vibes and predict events that later manifested into reality. Right from my years in school and college, I have always been an empath – a person who could connect with people, sense their pains, show compassion and help them.
But to recognize my true purpose in life, I had to go through challenging times and I felt like I had hit the rock bottom of life. I felt stuck in the deepest trenches. It was then, I experienced a sudden epiphany and knew that something was about to change in my life. I believe that no one stays in a dark place forever and I knew I would see the light at the end of the tunnel. I just had to trust the encoded vibes that were messages sent to me from the universe to guide me towards my destiny, and my purpose in life.
My experience taught me that rock bottom experiences offer us a chance to start all over again and not only that, it also leaves us with lessons that make us wiser in life. Through intense meditation and deep spiritual healing, I could connect with my higher self and hear my true calling. I used my pain to ignite my inner strength. I shut off from the outer world and completely isolated myself from all the negativity in my life. It was then that my curiosity in cosmic science began, I paused and hit that "Reset button" of my life. I started discovering a passion in me to help people overcome obstacles. I began to walk on a guided path to adopt a holistic approach in healing them.
I opened up to the cosmic energy within me and discovered the power of Clairaudience – (ability to hear the spirits, who guide my readings) – and Clairvoyance – (ability to see beyond the norm and predict future).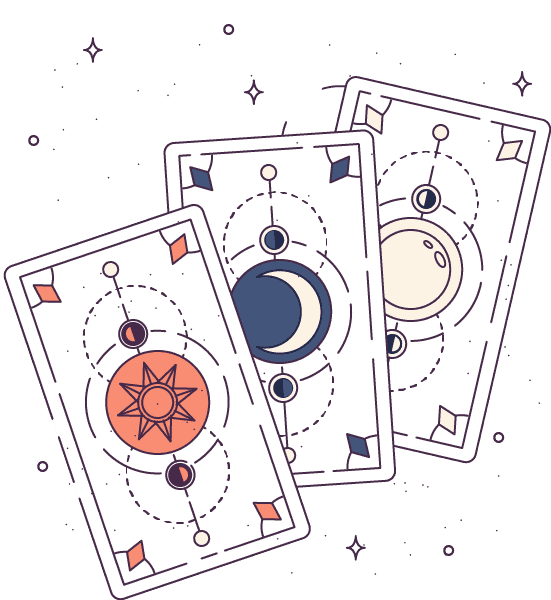 Over the past several years, I have been practicing Tarot Reading, Numerology and now Vedic Astrology to connect with people. I help them discover themselves, guide them to let go of things that hamper their spiritual growth and in turn heal them. With the cosmic powers of Tarot Reading, Numerology, and Vedic Astrology blended with my unique intuitive capabilities and spiritual guidance, I connect with the energies and translate these messages into timeless insights. I also suggest remedies that help people lead a more meaningful life. My readings have helped people from all walks of life including Entrepreneurs, Healthcare Professionals, IT Professionals, Executives, Teachers, Students, Home-makers and more.
My natural choice of healing is Tarot Reading, Numerology, and Vedic Astrology simply because of their ability to give a clear insight into life with maximum possible accuracy. My readings are highly spiritual, intuitive, honest and they positively impact the lives of those with sincere intent.
Through guidance from the spiritual world, energy levels and vibrations, combined with Tarot, Numerology, and Vedic Astrology I help you dig deep into your soul and discover your true self. LIFE is EXCITING, ECSTATIC & EXTRA-ORDINARILY FULFILLING for those who align themselves to the destiny designed for them by the universe. I strongly believe that, we should do what we love the most, and this is what I love – meeting with people and helping them find their purpose in life by connecting them to their higher self – one that attracts happiness, peace, love, passion, prosperity and success.
What Clients Say
Testimonials
Well, reading experience with khyati was an unforgettable. Damn, she is very accurate, problem solver and so humble. She not only gives u perfect insight but also she makes sure that you feel positive about yourself. She is so much to the point, knowledgeable, accurate, pure soul, full of positive energy but more of all she is a great Human being. I recommend guys Khyati's reading for sure. Thank you so much khyati. I am so glad to know u. . Hare Krishna 🙏🏻
Nirav Barot – Film Director
"2020 has been tough for all. With my arthritis and the struggle in my career, I felt exhausted with the changes that were happening around me. It was not a co-incidence that I met Khiyati when I needed the most. I believe she was a gift from a super-powerful being. Through her Tarot and Numerology reading, she identified my life journey and most of the events that had occurred in my life. I was amazed at the accuracy with which she narrated my characteristics, strengths and weaknesses, in spite of the fact that I had a telephonic consultation with her. And not just that, she even went ahead and cleared all the doubts I was carrying within myself, and set me free. She is truthful, sincere and helping others is her true passion. And you can feel that when you connect with her. I'm sure her readings will Khiyatilyze (i.e. catalyze) your journey towards a better life."
Manish Grampurohit
KHIYATI M BARROT is very thorough with her readings and informative. I am thankful to her for calming my anxiety and answering all my questions with patience. She gives you great tips on how to deal with your personal needs. Read with her, you won't be disappointed.
Kristin
I had been waiting for a very long time for some very specific results in my financial life. I had a conversation with KHIYATI M BARROT, and reading my cards, she suggested that I would get the desired results within 3 days. I was so surprised, when I got the results on the same day after the reading session. Her prophecy came true just within a few hours. It was a great experience. She is extremely focused and invests time in her clients.
Wendy
I was so pleased with KHIYATI M BARROT's reading. Everything that was revealed has come true. I was promoted at work, my home life has significantly improved and my relationship is solid.
Shea
I was skeptical at first about getting my card read, but KHIYATI M BARROT was able to explain each step and helped guide me through the process. She was very meticulous and ensured that all the right questions were answered. By the end of my reading I was very pleased and surprised at the level of accuracy she provided, while being professional. She has opened my eyes and I am now more in tune with my spiritual self.
Marsha
KHIYATI M BARROT is an amazing, god-gifted tarot card reader. Her predictions are very accurate, she explains in detail and her remedies are easy to follow. She really cares and helps her clients. I have used her services a couple of times and will continue to do so in future.
Ankita
KHIYATI M BARROT did her reading with me that was right on point. She told me I would get a better job and that my son would get a job too. Within 3 months' time-frame all this came true. She is very soft-spoken and has a very calming demeanor. She is the best. Let her do your reading and your will really be pleased as she can help answer any questions that you may need confirmation to or even if you have doubts about a situation, she will help provide clarity.
Norma
KHIYATI M BARROT- I would def recommend Khiyati as her skills and knowledge is beyond expectational and amazing. It is hard to get a right direction and guidance these days but she made sure I got answers to all my questions and made the phone call worth my time. The solutions provided by her are very detailed and would surely follow them in life! It was a great experience and she is a very pure person at heart to give such good life directions at difficult time! Thank you very much and highly recommended!
Disha Patel
KHIYATI M BARROT -My reading was such a beautiful experience and perfectly accurate to the extent that all your readings have put into words things I have felt all my life but had no idea how to articulate. You were extremely thorough, patient and gave me your full undivided attention answering all my questions having much clarity, peace of mind, motivation, and inspiration.
The knowledge you shared with me about the greater influences in my life helped me to relax into a greater vision of my path. You touched upon aspects of my personality and tendencies that were nearly completely hidden to me and yet have been deeply affecting my choices, relationships, and perspectives in life.
I also realized you value practicality and gave me all the specifics and steps to follow in the readings with a clear tangible action plan.
What I absolutely appreciated about you is that no matter what you saw i.e. positive or negative aspects, you relayed in a pragmatic manner, with the knowing that it is all happening exactly as it should.
I look forward to another reading soon.
Thank you and may you be blessed abundantly and touch & guide many people's life.
Rajni Ghaley